Hey my friends. Today is the last day of vacation before school starts again. The snow is melting, I'm still working on Sol-Badguy (sorry it's taking so long, guys!), and now with the new year rolling in, I'm hoping things don't possibly go any worse for me. I got a new Windows computer, but I have yet to set it up entirely (works fine, just need to get internet and a few other programs on there. I also plan to buy (online) some more PVC figures using the money I got for Christmas and expand my collection of PVC figures.
But the reason I'm here, is this:
This is
Super Mario: Evolution 2
(yes, a
Super Mario
game. No anti-Mario/Nintendo comments please), a Japanese hack of the original classic
Super Mario Bros.
that has a
Yoshi's Island
kick to it. It puts you in the role of Mario's dino companion Yoshi as he ventures through nine levels to re-unite with Baby Mario. Unfortunately, despite being able to download it, I cannot get the hack to run. I tried patching the original
SMB
multiple times, but with absolutely no luck, as it only leads to a black screen. There is a readme file attached with the .lzh download, but I cannot read it.
So what I am asking, is if anyone out there could give me advice on how to actually apply the IPS patch so that it actually allows the hack to run. Below are the contents of the lzh. download, as listed on my Mac. I know how the .ips patch works, but I'm curious about the other two attached files. Is there anything I'm supposed to do with them?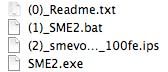 If you're asking why I want to download this hack, just watch this for yourselves and listen to the BGM.
BTW, if you want to download the file,
go here
.