After I did Kanshakudama Nage Kantarou no Toukaidou Gojuusan Tsugi, you only expected me to return with another video game OST. Well darn right I do. Today I have an OST that's only slightly less obscure, but still relatively unknown to most:
Itadaki Street: Watashi no Omise ni Yottette.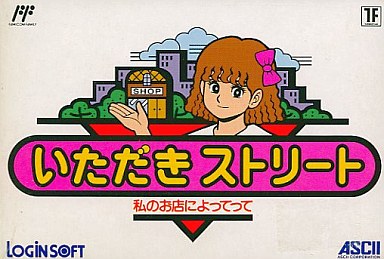 This is the grandaddy of the
Itadaki Street
series, being put out for the Famicom in March 1991. It was Enix's (before merging with Square to create Square Enix) one breakaway title from the Dragon Quest series, and it became a big hit in Japan. Unlike recent installments which were crossovers with either Final Fantasy or Super Mario (the most recent one, Fortune Street, being the first released nationwide), this game uses an all original cast, which carried over into the two sequels it got in later years; one on the SNES/SFC and another on the Playstation 2. Special became the first to begin the trend of crossovers, though Itadaki Street for Smartphone does have original characters much like the original trilogy that took about a decade to complete. I'm not going to play teacher with you and just give you the download.
Download
I'll probably get one more OST up of something you wouldn't think I'd do in the next few days.